For those working in HVACR, the AHR Expo is an annual trade show event you can't miss. This year's expo in Atlanta is the perfect opportunity to connect with like-minded professionals and get the inside scoop on some of the industry's most exciting new products. The show will take place at the Georgia World Congress Center from February 6th-8th, bringing you a fresh slate of tech presentations, industry education, innovation awards, and leadership panels, you're sure to love.
Never been? Check out the trailer for the AHR Expo 2023 here:
AHR 2023 Trailer from AHR Expo on Vimeo.
The AHR Expo brings together a diverse crowd of engineers, contractors, suppliers, distributors, educators, students, technicians, municipalities, and HVACR managers from across the nation (and the world) to explore the biggest challenges — and even bigger opportunities — for the coming year in HVACR. Explore the exhibitor list and schedule or register for the show here!
Veris Heads to Atlanta For the AHR Expo 2023
Veris is proud to join manufacturers and suppliers from around the world in showcasing the latest additions to our product line-ups and showcasing the newest and most innovative technologies in HVACR. Our team will be available throughout the 3-day conference at booth C5452 in Building C, Level 1 to provide interested attendees with product details and answers to all of their questions. You can easily find us on the floor map below, where our booth is marked near the top left corner.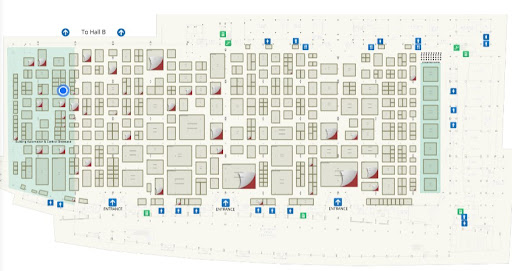 Come and See These Featured Products From Veris
Our focus this year will be on indoor air quality sensors, although these won't be the only products we're featuring at our booth. Come and see the upgraded CW2, HW2, and TW2 series of IAQ room sensors up close and learn about all of your options, from a sleek, faceless model to a color touchscreen!
CW2 Series CO2 Sensors: Our all-in-one CW2 sensors are more than just CO2 sensors. Gone are the days when you needed multiple sensor platforms to track all of your IAQ indicators. This simple one-stop option not only installs quickly with an intuitive user interface, but can monitor and manage CO2, VOC, RH, and temperature all in one unified platform. Also be sure to check out the CWE2 economy series and CWV2 value series of this popular, all-star air quality sensor.
HW2 Series Humidity Sensors: The HW2 humidity sensor can be fitted to detect both temperature and relative humidity (RH), at your option, from a single device. We're proud of the superior accuracy and sensitivity featured by these precise sensors that detect temperature to within 0.1 ℃ (0.1℉) and RH to within 0.1%.
TW2 Series Temperature Sensors: The flexible interface configuration and option to use a touchscreen display put our TW2 temperature sensors a cut above the rest at an economical price point. These sensors are easy to implement within your existing BAS with a wide variety of inputs and communication protocols, including BACnet and Modbus.
E71 Series DIN Rail Power Meter: The ethernet-enabled E71 Series of DIN rail power meters from Veris combines performance and affordability in a compact, DIN-mounted package for energy monitoring, multi-tenant metering, and commercial submetering. It's easy to hook the E71 into Ethernet daisy chains, simplifying installations with additional flexibility, and also to integrate the E71 into your existing open protocol system. This DIN rail power meter is outfitted to work with BACnet and Modbus systems alike.
Join Us at Our Booth For Happy Hour!
Stop by booth C5452 and join the Veris team for Happy Hour on February 7th from 4-6 PM. We'd love to share some beverages and chat with all of you about all things HVACR and a ton more that aren't. Let us know what you think of the panel discussions you've seen and some of the products that excite you most.
It's no secret that both company and career success are built on personal relationships. We're eager to get to meet you all face-to-face and get to know a little more about your business. The AHR Expo has always been a great chance to maintain and grow existing relationships, open new doors, and network while having fun.
We Can't Wait to See You There
If you haven't registered for the AHR Expo 2023 yet, you can do so here. This once-a-year event is an essential outing for anyone working in HVACR. The Veris team is proud to be represented among this year's exhibitors and we can't wait to see you all in Atlanta!